Sugester at TechCrunch Disrupt London 2015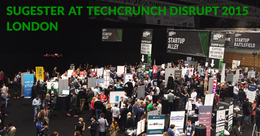 Last week (7-8/12/2015 to be precise) one of the most important tech events of the year took place - and we were there for it. TechCrunch Disrupt 2015, one of the biggest startup meetups in the world, took place at the Copper Box Arena, a part of the former Olympic Village. Disrupt is not just about startups showing off - the exhibition element is supplemented by numerous talks by startup moguls. As always, the speaker lineup was impressive - we had a chance to listen to Nicolas Brusson (BlaBlaCar), Tim Armstrong (AOL), Jeff Lawson (Twilio) and Sebastian Siemiatkowski (Klarna), to name only a few participants.
Still - while the panel discussions were definitely interesting, it's the exhibition stands ran by startup founders and employees that are the event's heart and soul. Each company gets a cocktail table, a bit of space and access to electricity - and that's it. The idea behind this ascetic approach is to encourage personal interaction and focus on product rather than on free swag and flashy booths. We took our chances and, armed with a roller banner, flyers and business cards, got on a flight to London. Not only did we manage to distribute all of our promotional materials, but also had the chance to meet some of our Polish compatriots. Among them were team members from NeuroOn Mask (hi-tech sleep aid), Revealo (privacy-focused IoT property tracker) and Skylable (open-source scalable infrastructure solutions). You can read more about these companies on their respective websites, or by going to this article (text in Polish only).
Disrupt is not only a great opportunity to meet with like-minded entrepreneurs and potential customers, but also a fantastic way to gain traction from tech-oriented media outlets. Sugester was lucky enough to get noticed and picked up by the popular tech listicle portal Listhunt - they consider us one of the most interesting startups to exhibit at Disrupt. Go to the full article here (text in English).
When you're talking about TechCrunch Disrupt, it's impossible not to mention Startup Battlefield - a product demo competition for new companies, where the main prize is $50,000 and invaluable exposure to media and investors. This year's winner is a web app called Jukedeck, which procedurally generates background music of any length, mood and genre. Congratulations!
We'd also like to thank everyone who took the time to meet us at Disrupt, have a conversation and exchange ideas - we were overwhelmed by our vistiors' positive reactions. The comments and insights you offered are invaluable to us - and so we decided to extend our Disrupt deal to the end of the year. Use promo code TECHCRUNCH to get 50% off any purchase - a deal like this doesn't happen often!
---
---